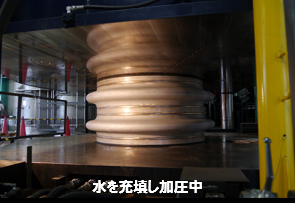 Filling with water during pressurization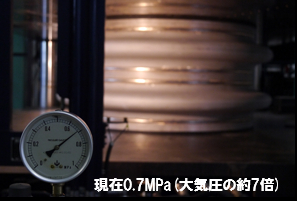 Currently 0.7Mpa (approx. 7 times air pressure)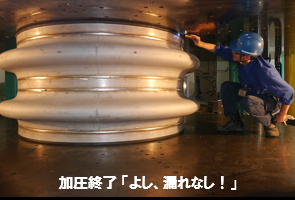 Pressurization complete "Great, no leaks!"
Using Neutron Japan's "Super Hulk," the world's largest hydroforming device at 50,000kN/m, we carried out a water-pressure test on bellows (diameter 1,800mm X length 1,000mm) which were used in the dam diffuser Expansion Joints.
Without using a test flange, it was pressurized by filling with water with o-rings attached to the top and bottom of the bellows. We carried out pressure-resistance checks.
At Neuron Japan, we also carry out inspection testing business on behalf of others which makes use of the latest production equipment and inspection testing equipment.
Be sure to contact us.
Neuron Japan Engineering Head Office PH: 0774-95-3900 Fax: 0774-95-3905 Email: info@neuron.ne.jp